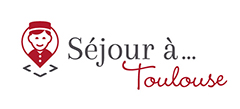 Launched there are more than 5 years, Sejouratoulouse.com was the first online booking website for luxury furnished apartments in the heart of Toulouse, for short and medium tourism or business stays.

Gage seriousness, professionalism on a market still in full fallow, the holiday rental site Holiday in Toulouse consolidated its reputation over the years and continues to expand with the opening in 2014 of stay in Bordeaux. sustainable business concept proven, Living in Toulouse created in 2015 « Stay… » to ensure the development of its network. After Bordeaux, Aix-Marseille (13) and Biarritz (64) should be created by this summer.

THE CONCEPT

More than just a platform linking homeowners with their tenants to stay ... has become over time a service network of companies for tenants and owners, to which the brand offers:

To homeowners
complete management of their property (for the organization to rental management), relieving them of everything, except the principal: their rental income.


To tenants
An exclusive platform online booking, secure and proven, enabling one-click, renting luxury apartments "ready-to-live" for stays of 3 days to several months is all inclusive (cleaning included, linen, unlimited internet, no additional charge).
A dedicated service for long stays and specific business needs.
A« true» local host, and on-site assistance 7/7, if necessary.

RENTAL OFFER
For rent by the night, week or month (from 3 nights)
For a business or a leisure trip
Luxury apartments "ready-to-live" fully equipped and tastefully decorated
In the city center and the main centers of the agglomeration of activity
Living in Toulouse, specialized in renting luxury furnished apartments in the heart of the Pink City, provides a flexible, economical and practical solution for traveling "urban and smart".

Flexible :

Our exclusive online booking system allows you to choose from a wide selection of houses and apartments, accommodation of your choice depending on availability and your wishes, and book directly, without intermediary or delay. Book online, from your computer, tablet or smartphone. Modulate the duration of your stay of 3 days to 1 year with no obligation to book the week or month.

Economic

Rates ALL INCLUSIVE, NO SURPRISE
Displayed prices include all taxes and fees included.
Water, gas, electricity are included in the price
The internet access is free and unlimited
Linen and towels is provided to the number of people expected.
The cleaning of the apartment before your arrival and after your departure is provided by us.
For short stays, the system calculates a price "lean" to the day.
For longer stays, we offer volume discounts for weekly or monthly.

Convenient

Completely renovated, tastefully decorated and perfectly maintained in compliance with a strict quality charter, our apartments are very functional and perfectly landscaped. You will get more privacy, more freedom, more space than a hotel room.
Kitchens are ideally equipped for that you do not miss anything.
The bathrooms are welcoming with health and hygiene in perfect state of maintenance.
The rooms, quiet, you will always offer quality bedding, checked regularly.
Our professional cleaning service is guaranteed by specialists of home cleaning.
Our dedicated laundry service ensures maintenance of linen at the height of a hotel service.
Of complete checks of equipment and appliance apartments are performed before each entry.

TEAM

Sabine, founder and owner relationships
Annick, tenant relations
Mara, management and accounting
Laurence, communication
Filipe, Check-in / Check-out
Bastien, care and maintenance

The stay in Toulouse team is composed of local, multilingual professionals who have at heart to meet all your needs, to ensure a local service and support at all times.

CONTACT : Sabine Cabanis – www.sejouratoulouse.com – 07 61 16 31 31