« we-Paris is above all a philosophy of travel and discovery. To be fully understood and felt, a city must live in immersion, closer to its people, in their neighborhoods, their output places and their apartments!
Via our apartments, our blog, our home, our specific advice and services we want to offer a quality living experience enriched and unique for tourists and professionals.
This is also a bet / Paris succeeded because today the family grows with we-we-Toulouse and Bordeaux ! » Anne-Sophie, founder of we-Paris
Our history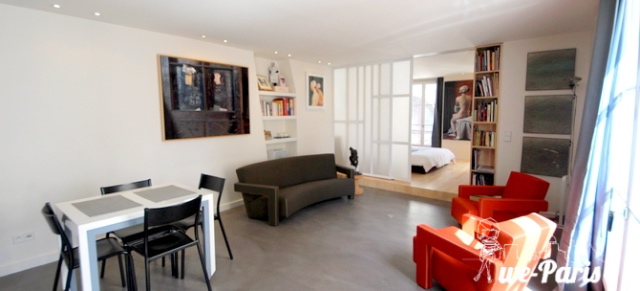 Once upon a time, a young Breton: Anne-Sophie, in love with Paris, its merchants, its neighborhoods, its cultural dynamism and restaurants. It is through her blog that she began to share his unusual discoveries and meetings with small traders. Then in May 2011, the idea of "we-Paris" imposed itself naturally. By offering carefully selected apartments, immersion in the lives of Parisians would be complete.

« Eat Paris, exit Parisian and rest in apartments resolutely Parisian ... ! »
Rent your apartment with we-Paris is choosing a solution "turnkey"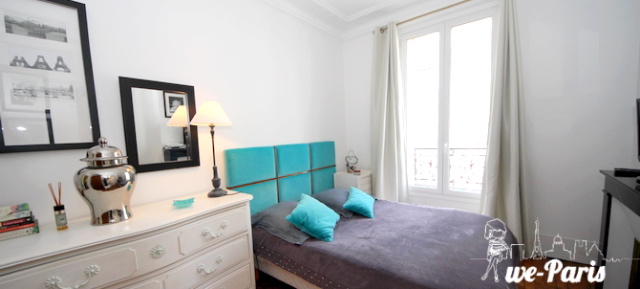 Why vacation rentals ?
Une rentabilité supplémentaire lors de vos absences (vacances, déplacements professionnels, week-end).
L'assurance de paiement des loyers dans un délai convenu au préalable.
L'entretien permanent de votre bien.
La possibilité d'en disposer à votre guise.
Un taux d'occupation élevé, Paris étant la première ville au monde visitée avec 27 millions de touristes par an !!!
Why trust us ?
Because our concern is to satisfy both our tenants and our owners! You are the heart of our business, and without you and your trust we would not be here today.
Specialists in furnished apartment rentals quality short (two night minimum) and average durations, we understand your expectations. Our requirement allows us to offer our customers modern property tasteful and comfort
(see our quality chart).
Your objective: to maximize the fill rate of your apartment with a qualitative service.

Our goal: to inspire our customers to come to love Paris and lifestyle!
We-Paris has three of your apartment management packages.
Part of your apartment management :
Gestion partielle de votre appartement meublé :
marketing
home tenants (check-in / check-out)
the sureties management
the inventory
collecting rent
assistance during the stay tenants
Gestion totale de votre appartement :
marketing
maintenance before / after each arrival
home tenants (check-in / check-out)
the inventory
collecting rent
the sureties management
assistance during the stay tenants
By choosing we-Paris, you make the choice of quality, customer-friendly, interactive website and especially an excellent rental income.
Your apartment is to renovate, rejuvenate or ready for rent, contact us, we-Paris has the solution!
Our apartments.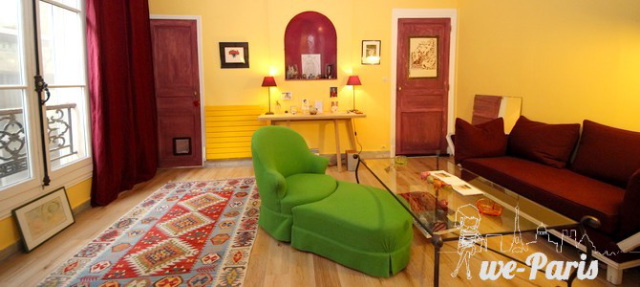 Our park is limited to 40 apartments voluntarily. This is a strategic choice because we give special importance to the proximity to our owners. Indeed, listening to your needs and your availability is a strength. All our apartments are inspected regularly, have a state of the input and output areas in each property. Thus we maintain your apartment in immaculate condition.

Click here to discover our apartment portfolio.


The extras of we-Paris that make your stay unforgettable :
On our site we-paris.com:
Selected apartments visited and photographed with care
Explicit and transparent Ads from our boutique apartments
Short and medium stays of 2 nights to 6 months and opportunity long term in each case
A reservation system immediate online
During the stay of our tenants :
A personalized presentation with the best neighborhood
Benefits in shops neighborhood partners
Availability 7JR / 7 to answer your questions
Practical and original services (taxi booking, du'œnologie course, babysitting ...)
FREE comprehensive insurance for each property

We-Paris is a small reactive team at your service. Our philosophy suits you ? Contact Us ! We will be happy to answer your questions and to list your property on our site.

See you soon.

Anne-Sophie Aibar and we-Paris team